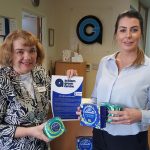 Soroptimist International Middlesbrough has kindly donated a supply of sanitary products to the Acklam Green Centre, which are available to girls and women who are unable to afford to purchase them themselves.
The Middlesbrough branch of SI, a global volunteer movement working together to transform the lives of women and girls, is supporting the #EndPeriodPoverty campaign with the donation of the products which have been made available for any Acklam Green Centre customers or local-residents to access discreetly.
Pauline Reed membership officer and immediate past president from SI Middlesbrough, said: "It's a heart-breaking reality that one in 10 females are unable to afford sanitary items here in the UK.
"Some girls and women are forced to use old clothes, toilet paper and newspapers as alternative solutions to sanitary products, while others have to rely on friends and foodbanks for handouts."
Any females who require products should visit Acklam Green Centre's reception desk and ask for the 'toiletries box' where they will be handed a box to take into a private room and select their required products before handing the box back in. A sheet has been left in the box to note down which products have been taken so that centre staff can monitor items that require replacement.
Donna Smith, centre manager for Acklam Green Centre, said: "We are delighted to support SI Middlesbrough's who have purchased a very generous supply of sanitary products in support of the #EndPeriodPoverty campaign. Any ladies and girls, who would otherwise struggle to purchase these products for themselves, are encouraged to come and speak to our reception where their request will be dealt with discreetly."
Soroptimist International (SI) Middlesbrough meets at Acklam Green Centre on the third Thursday of every month between 7pm and 9pm. The group consists of friendly, lively and energetic women from all walks of life and of all ages who work together using our various skills and talents to make a difference to the lives of others through awareness-raising, lobbying, practical help and fundraising.
The next SI Middlesbrough event being held at Acklam Green Centre is as follows:
– WASPI – Women Against State Pension Inequality – A Talk by Kath Sainsbury Thursday 19 July 2018 at 7pm
Visitors are welcome to attend a meeting to see if they would like to become a member. For more information visit www.sigbi.org/middlesbrough or contact Pauline Reed on info_paulinereed@btinternet.com