Monthly Archives:
May 2018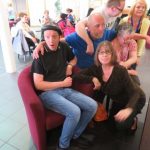 The Acklam Green Centre recently hosted a special 50th birthday celebration for TASC (Teesside Ability Support Centre).
TASC, which provides care, training and activities to over 100 adults with differing abilities each week, is marking its 'Golden Jubilee' with a series of celebrations taking place up to October.
The party, which took place in the Acklam Green Centre's Roseberry Hall on 10th May, saw TASC staff come together with many of the organisation's members and their carers to enjoy a disco, quiz, food and drink and presentations.
TASC, which has its main centre on Acklam Road as well as two smaller resources in Coulby Newham and Hemlington, is a regular visitor to the Acklam Green Centre having used the facility for Christmas parties and other events.
Malcolm Turley, general manager at TASC, said: "We all had a fantastic time celebrating our 'Golden Jubilee' at the Acklam Green Centre, which is one of a number of events we're hosting throughout our 50th year.
"The Acklam Green Centre is an ideal venue for us as it's close to our main centre and has as large hall ideal for hosting large numbers of people. There are also private meeting rooms available that we can use for members' personal care and the staff are always really friendly and go out of their way to be as helpful as possible."
For further information about TASC visit the website www.teessidetasc.org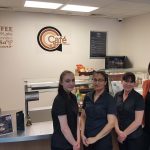 Both the Acklam Green Centre and Resource Centre have benefited from improvements in recent weeks to ensure customers continue to receive a warm welcome.
Café Connect in the atrium of Acklam Green Centre has had a fresh lick of paint, had its new logo put in pride of place following a branding exercise and has benefited from new menus and other finishing touches. An exterior banner has also been fitted to promote the café facility to the general-public and encourage walk-ins.
Meanwhile, the centre has had new interior signage installed reflecting the new room names – Roseberry Hall, Taylor Suite, Brownlee Suite, Stainsby Room, Oakland Room and Cambridge Room – following a competition to name them at the end of last year.
The Resource Centre reception area has also had a facelift with new display areas put in place to ensure better promotion of the centre's facilities and activities.
Donna Smith, facilities manager, said: "We want our customers to have a positive experience when visiting the centres so have made some changes that have really made a difference. We have enhanced the café area which now shows off our fantastic new logo, and our smart new internal signage better signposts visitors around the centre and creates an identity for our first-class rooms."