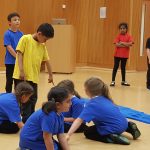 The Acklam Green Centre welcomed over a hundred children and young people from 11 local schools for a performance of William Shakespeare's 'The Tempest'.
The Year 1 to Year 10 pupils, aged five to fifteen, are from the Middlesbrough Associate Schools. The group comprises of: Archibald Primary School as Lead School, Abingdon Primary School, Acklam Grange School, Acklam Whin Primary, Berwick Hills Primary, Breckon Hill Primary School, Newport Primary School, Macmillan Academy, Priory Woods School and Arts College, St Thomas More RC Primary and Thorntree Primary.
As part of the Royal Shakespeare Company Associate Schools Project, which is aimed at embedding Shakespeare in education, the participating schools each brought to life a section of the 400 year-old comedy, set on a remote island and revolving around a major act of betrayal and a plot of revenge. The young thespians took part in two performances to packed audiences in Acklam Green Centre's large conference hall.
Anita Jefferies, Head Teacher at Archibald Primary School, which led the project, said: "The Royal Shakespeare Company is committed to partnering with Middlesbrough Schools. The training and support they provide gives pupils amazing opportunities and improves their overall confidence. Through the Associate Schools Programme, three pupils have now been selected to train with the Royal Shakespeare Company. It is wonderful that we have the facilities at the Acklam Green Centre to host a festival of this size."
The performances were attended by families of the children and guests from the local community, including some of the team from Actes. Sandra Phillips, Chief Executive commented: "All of the performers were absolutely fantastic. To see children as young as five bring to life a Shakespearean classic was really impressive. We all thoroughly enjoyed it."
The Acklam Green Centre offers versatile facilities ideal for business events, conference and meetings as well as a base for many community and activity groups.
Sandra added: "It was great to see Acklam Green Centre's Conference Hall being utilised as a performance space as its' state-of-the-art soundproofing, sound and light equipment and fully racked seating mean it is ideal for theatrical performances of this kind and we hope to see more local schools and theatre groups making use of the facilities."
For further information about the Acklam Green Centre contact 01642 811 121.