Monthly Archives:
February 2019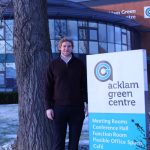 The Acklam Green Centre and Resource Centre have recently welcomed a new member of staff who will provide more opportunities for people within the local community to get active.
In his role as Activity Officer, 24-year-old Ollie Hodgson is tasked with engaging with people from the local community and sports and activity providers to enhance the provision for inactive residents, with the aim of reducing poor health, social isolation and loneliness. The role is funded by the Tees Valley Community Foundation's Getting the Inactive Active grants programme, in partnership with Sport England and the National Lottery.
Ollie, who lives in Middlesbrough close to the communities he's working among, has already began consulting with local-residents to determine what activities they would be most interested in and sourcing providers to bridge the gap. New Pilates and Zumba classes have already started up at the Acklam Green Centre as a result of the feedback. Additionally, Ollie will recruit two volunteers from the local community to support the project and he will help to support and mentor them with associated Streetwise Sport Activator training.
The Acklam Green Centre and the Resource Centre offer a range of rooms and sports pitches ideally suited to sports and physical activities. Ollie and the two volunteers will help promote activities and ensure activity groups become sustainable within the facilities owned by Actes Trust.
Ollie, a Sports Management graduate from Northumbria University who also works as a supply teacher, has a track record in organising successful sporting events having organised activities for schools in Darlington and a charity sportsman's dinner in aid of the Teenage Cancer Trust and he is looking forward to building upon this experience in his new role. Ollie is himself a keen sportsman and plays for Darlington Mowden Park R.F.C where he has also worked in a marketing capacity.
Ollie commented: "I'm really pleased to have secured the role with Actes, working with the Acklam Green Centre and Resource Centre, as it offers me the chance to build on and apply the sports management experience I gained at university. Sports and fitness is something I'm really passionate about and I am looking forward to bringing new activities to the centres for residents to take part in and become more active."
Donna Smith, facilities manager at Actes, said: "We're delighted to welcome Ollie to the team. The role provides a unique opportunity for us to tackle issues of inactivity within the local community by offering people the chance to take part in the types of activities they enjoy the most. It also allows us to make the most of the facilities on offer both at the Acklam Green Centre and the Resource Centre, including our large activity halls and sports pitches."
If you are interested in running an activity at the Acklam Green Centre or Resource Centre or would like to have a say on the type of activities on offer, please contact Ollie Hodgson on Tel: 07708 984936 or email: ollie.hodgson@actes.co.uk