Monthly Archives:
September 2018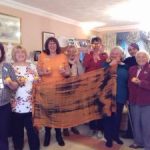 Soroptimist International (SI) Middlesbrough is a group of friendly, lively and energetic women from all walks of life and of all ages who work together using our various skills and talents to make a difference to the lives of others. This is done through awareness-raising, lobbying, practical help and fund-raising.
The group meets at Acklam Green Centre on the third Thursday of the month between 7pm and 9pm. A speaker takes centre-stage for the first hour and this is followed by an opportunity for members to socialise with each other. Visitors are welcome to attend any meeting to see if they would like to become a member.
The next SI Middlesbrough events taking place at Acklam Green Centre are:
Thursday 20 September, 7pm – Floral Demonstration celebrating International day of Peace and Anti-Slavery Day.
Thursday 18 October, 7pm – Talk on the Regeneration of Middlesbrough by David Allred.
Thursday 15 November, 7pm – Petition Evening.
SI Middlesbrough is supporting the #EndPeriodPoverty campaign with the donation of the products which have been made available for any Acklam Green Centre customers or local-residents to access discreetly.
Soroptimist International is a global volunteer movement working together to transform the lives of women and girls. (SI) works at a local, national and international level to educate, empower and enable opportunities for women and girls. Soroptimist International Great Britain and Ireland (SIGBI has consultative status at the Economic & Social Council (ECOSOC) at the United Nations (UN).
For further information or to join SI Middlesbrough and help make a difference to women and girls worldwide visit: www.sigbi.org/middlesbrough or email Pam: cooperpageo21@aol.com