Monthly Archives:
December 2017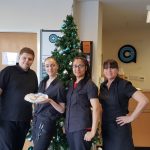 The Acklam Green Centre's catering team have continued to be kept busy preparing food for numerous business and celebration events in recent weeks, as well as for members of the public using Café Connect.
The team has recruited an extra pair of hands in the form of 20-year-old Shannon Doley who was appointed as Catering Apprentice in November to help manage the increased demand. Shannon is settling in well and is providing valuable support to the team to aid the smooth running of the catering function.
Donna Smith, facilities manager at Acklam Green Centre, said: "We pride ourselves on providing superb catering services to compliment our excellent meeting, office and event facilities. The team has been very busy recently providing clients with a range of catering options from breakfast buffers to a hot and cold lunch menus and afternoon tea which is testament to the high standards we maintain.
"Shannon is proving to be a welcome addition to the team at this busy time and we look forward to supporting her with her career development through the apprenticeship programme."
There has been lots going on at both venues since our last newsletter and things are showing no sign of slowing down before we take our annual Christmas break. Bookings have continued to see an upward trend, the office space at Acklam Green Centre has become fully occupied and groups running a variety of activities from both facilities continue to provide plenty of things to do for the local community. We hope you enjoy reading about our latest news and a fantastic January offer. We'd like to wish you a very merry Christmas and a happy new year and we look forward to seeing you in 2018!
For further information about catering at Acklam Green Centre contact 01642 811 137.