Monthly Archives:
November 2017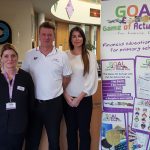 A new business has launched in Middlesbrough to provide important life and financial education lessons to primary school children. Game of Actual Life (GOAL) has set up from the Acklam Green Centre, taking the office space at the purpose-built facility to full capacity.
GOAL, a not-for-profit community interest company, is the brainchild of duo Simon Carson, who already runs a successful Sports Schools business from the facility, and Anne-Marie Carson who boasts 28 years' experience in teaching, including as a deputy head and Special Educational Needs Co-ordinator in large primary school.
Simon and Anne-Marie had identified a need to provide children with the opportunity to gain confidence with money in everyday situations, while giving them invaluable life skills which will stay with them into their adult life. The GOAL programme has been developed to covers five key areas comprising: Keep in Credit, covering the basics of money management, where the tricky aspects of maths are given a real life focus as children manage their 'GOAL' bank accounts, mortgages and pensions; Keep Learning, focusing on soft skills such as social communication, a positive attitude and dealing with people; Keep Fit, covering exercise and nutrition; Keep Calm, which is focused on mental wellbeing and provides an opportunity to practice mindfulness; and Keep Safe which permeates through every element of the programme, concentrating on strategies for children to take into adulthood to protect them both online and in the real world.
The GOAL programme covers a wide range of topics ranging from buying a car to mortgages and buying a house, all of which are delivered in a practical way while supporting maths and English and other Key stage 1 and 2 subjects. The bespoke programme can be delivered across the school year or for shorter durations including a GOAL in a Day option.
Anne-Marie Carson, Business Development Manager at GOAL, said: "The Game Of Actual Life plugs a gap in the market for a dedicated programme that teaches important life lessons about how to handle money and how to live a happier, healthier life. It provides the opportunity for application of basic skills taught at school and is delivered in a fun and engaging way.
"The programme aims to provide experience of everyday adult life such as getting a job and paying bills and can impact on the children's appreciation of why it's important to do well in school. The feedback we are already receiving from parents is that their children are more understanding about money, and teachers enjoy being able to refer to GOAL during maths and other curriculum subjects."
GOAL has already been delivered in over 100 schools in Middlesbrough, the company's heartland, across the wider Tees Valley area and into North Yorkshire. Simon and Anne-Marie, supported by four other delivery staff and a board of directors made up of representatives from education, public health, the police and fitness and nutrition experts, are already planning for further growth, however the business remains committed to expanding from the Acklam Green Centre.
Simon Carson commented: "I am delighted with the growth the Acklam Green Centre enabled our Sports Schools to achieve, so I had no hesitation in establishing GOAL from the centre too. We benefit from access to the excellent meeting and conference rooms, sports facilities and of course fantastic office space, providing us with all of the facilities we need under one roof. What's more, the centre is in an accessible location that supports our planned expansion across the region and beyond. We are already getting excellent feedback about GOAL from some of the top Ofsted rated schools and are receiving enquiries from across the UK and even overseas. The potential is vast."
GOAL and Simon Carson Sports School jointly employ 39 people from the Acklam Green Centre, a figure which is due to increase in the coming months. The businesses occupy four ground floor offices, taking the centre to full capacity.
Donna Smith, facilities manager for Acklam Green Centre, said: "We are really pleased to welcome Game of Actual Life to the Acklam Green Centre. This unique business, which is teaching primary school children important life lessons, has huge expansion potential and we are delighted to be able to support the team with their exciting growth plans in place by providing them with a professional business environment."
For further information about the Game of Actual Life (GOAL) call 07966767284, email: amcarson.gameofactuallife@gmail.com .
Acklam Green Centre provides a range of office space options from part-time 'hot desking' and 'co-working' to permanent desks and private office space. It also provides first-class meeting rooms, conference and events facilities, and football pitches for hire to businesses across Tees Valley as well as the local community. For further information call 01642 811120, email info@acklam-green-centre.com or visit www.acklam-green-centre.com.