Monthly Archives:
March 2017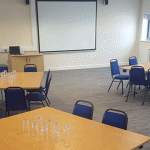 The second-floor meeting space at the Acklam Green Centre has been transformed into a large private training and conference suite that can comfortably accommodate up to 60 people in a variety of room layouts.
The suite is completely self-contained with its own kitchen and toilets and is proving popular with business and consumer customers alike, including the local Slimming World group which uses the facility two nights a week.
Donna Smith, Facilities Manager at the Acklam Green Centre, said: "We continue to listen to feedback from our customers who had highlighted a need for an additional training and conference suite to complement our meeting and conference spaces.
"The second-floor office spaces have been adapted and opened out to create one large self-contained space with its own kitchen area and toilet facilities. The room has a lovely light and airy feel and is proving really popular with customers."
The training suite comes equipped with presentation equipment and wifi and is available to book at full-day, half-day and hourly rates. A range of in-house catering options are also available to book.
For further information about the conference, training and meeting space available at Acklam Green Centre contact 01642 811120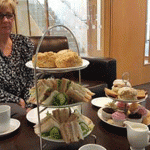 Café Connect is marking this Mother's Day with a special afternoon tea event taking place on Monday 27 March.
Located within the Acklam Green Centre, Café Connect will be serving a traditional afternoon tea comprising of a selection of finger sandwiches, savoury and fruit scones served with preserve and whipped cream, homemade cupcakes, tray bakes and a choice of tea, coffee or herbal tea.
Priced at £6.50 per person or £12 for two, the afternoon tea event is a chance to treat mum just after mothering Sunday on 26 March. The event follows the introduction of afternoon tea to the Acklam Green Centre delegate catering packages which have been well received since they launched last month.
Paula Baxter, Café Connect supervisor, said: "Everyone loves an afternoon tea, especially on Mother's Day, so we have decided to mark the occasion by hosting an event on Monday 27 March so people can treat mum or other special ladies in their life.
"We recently introduced afternoon teas to AGC's delegate catering packages which have proved very popular, so it made sense to make this available to the wider public.
"We want to let the local community know that Café Connect is somewhere everyone can visit and enjoy, it's not just for those attending events and meetings in centre, so this is a great opportunity to showcase our lovely café and tasty catering offer."
The Mother's Day Afternoon Tea will be served between 1pm and 3pm on Monday 27 March and places must be booked in advance by Wednesday 22 March, 2017.
For further information about catering packages contact 01642 811120 or email info@acklam-green-centre.com